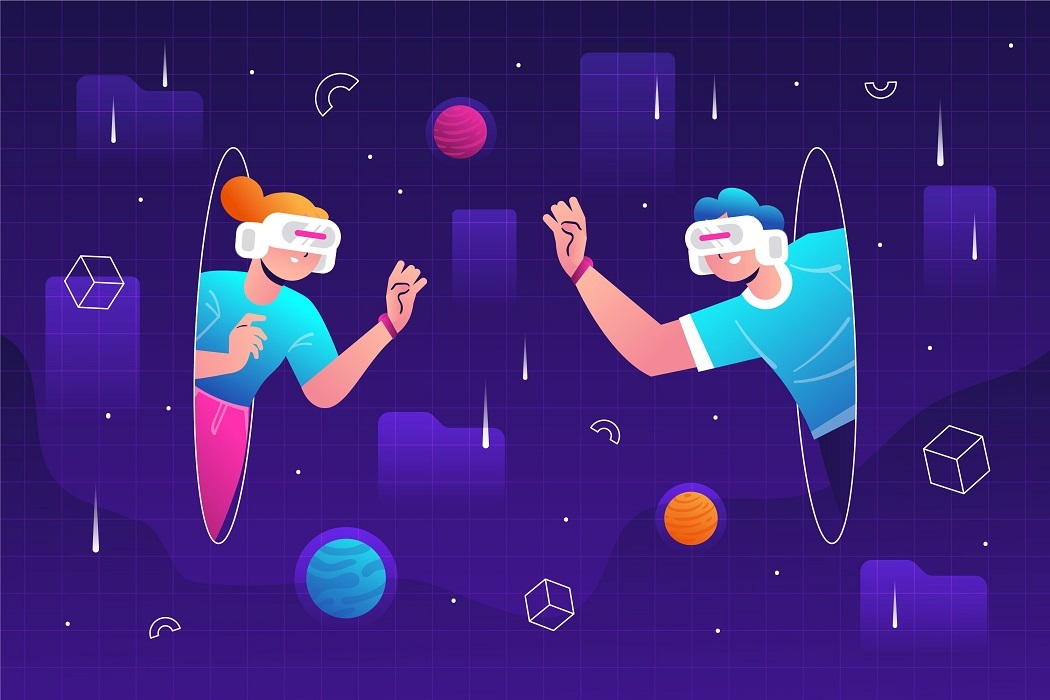 The Metaverse is a 3D virtual world where you (the user) can lead a virtual existence. In which you can communicate with people who also have 3D avatars while using your avatar in 3D. There are countless options to buy, sell, and amuse oneself.
A $1 Trillion Opportunity: Metaverse
The Metaverse is a huge virtual environment where people interact as digital avatars that may do any action — for example, drive themselves to and from work, attend events, etc.
The Metaverse can transform how people connect online, accelerating the shift from social media and chat platforms to a multi-dimensional space where people can interact more deeply.
According to Grayscale, a major crypto company, the Metaverse represents a $1 trillion annual income opportunity. The possibility of the Metaverse is a factor in the heightened interest in blockchain metaverse development. Many business titans are entering the Metaverse to offer citizens fresh solutions.
Opportunities In The Metaverse
The possibilities of the MetaVerse Development services are only limited by human imagination. Would you like to talk about your concepts? Read on.
1) Virtual Or Augmented Reality That Is Immersive-
A metaverse can leverage various technologies, such as virtual reality, mixed reality, augmented reality, desktop browsers, and mobile devices to transport its users to a new environment.
In the Metaverse, they will be able to lead a virtual existence in which they can make friends, invest in property, work, and play, explore, go on vacation, and more.
2) Digital Economies-
Through the use of cryptocurrencies, NFT, and blockchain-based technology, Metaverse develops its virtual economy. You can swap artwork, branded clothes, virtual properties, and other items through NFT marketplaces.
The value of virtual property in Meta worlds has increased in recent months as the Metaverse has gained in popularity, attracting more investors to this new.
3) Utilizing VR For Both Work And Living-
Although games have the greatest capacity for designing and creating online virtual worlds, the Metaverse, in particular, is a place where people can live a 24-hour life by engaging in activities like:
meeting new people
working
experimenting with ideas
traveling
attending concerts
opening a new business
shopping
And even purchasing real estate in Metaverse NFT marketplaces.
4) Brand Experience In The Online Environment-
You can create virtual activities for an already-existing meta world (like Roblox's Nike), organize virtual events (like Ariana Grande's concert in Fortnite), or create your metaverse environment where users can engage in novel activities, go on quests, or build virtual homes.
5) Simulations And Digital Twins-
A metaverse development company can build digital twins inside and outside the Metaverse, which are exact virtual recreations of people, places, things, landscapes, buildings, virtual offices, cities, pipelines, infrastructure, factories, and even the entire planet with its atmosphere and weather patterns.
These are incredibly helpful for scientists who use virtual models to do experiments, calculations, and forecasts for the physical world. This makes it easy for them to safely carry out studies and recreate settings that would be challenging in the real world.
6) Immersive Educational Opportunities-
The next noteworthy addition to the list of innovative metaverse business concepts is motivated by the immersive experiences made possible by the Metaverse.
The Metaverse could be used to provide more immersive learning experiences in a variety of fields, including medical education, higher education, military applications, and many others.
Most importantly, since the Metaverse already has the infrastructure to support immersive learning, corporations don't need to construct any of it.
Applications of a metaverse in education would include virtual reality environments and the ability to overlay digital information on top of the digital world using digital headsets. Learning using VR could enhance how students engage with various concepts and ideas.
The Metaverse can also make it simpler to update the curriculum and assist in error detection simultaneously. The metaverse business potential for education will provide immersive learning experiences without linguistic restrictions.
7) Employee Participation
Employee involvement would emphasize the last and maybe most important entry among metaverse business ideas. The Metaverse could be used by businesses to enable augmented virtual workspaces.
Additionally, the Metaverse might encourage greater involvement, connections with workers, and employee collaboration. How?
The finest setting for encouraging employee collaboration is the Metaverse. Microsoft provides one of the most advanced examples of using the Metaverse to modify workspaces.
As a virtual workspace solution where users can access all Microsoft services in one location, the Microsoft Mesh is practically taking shape.
Conclusion
The overview of several metaverse company concepts demonstrates how it can become a successful venture. Many industries could use the unique characteristics of the Metaverse to transform current business practices.
However, the success of your metaverse firm will primarily depend on how effectively you can capitalize on its advantages.
Additionally, the Metaverse and Blockchain Developers provide trade options and total ownership of your items and experiences in the Metaverse. Learn more about the Metaverse and how it could inspire fresh business concepts.
Through end-to-end assistance with your project's technical and development requirements, blockchainstudioz.com will assist you in launching a futuristic metaverse. Using our knowledge of blockchain, augmented reality, and virtual reality, we design and create Metaverse components, including:
3D virtual worlds
Metaverse NFT markets
Metaverse Applications
Decentralized platforms
And many more.
So, Why to wait? Contact us immediately.